The band started back in May 2010 as a 5 piece prodominantly formed to perform at a one off charity fundraising event. After the event's success the members decided to progress to the next level by becoming a professional function band. In March 2012 the band became a 4 piece...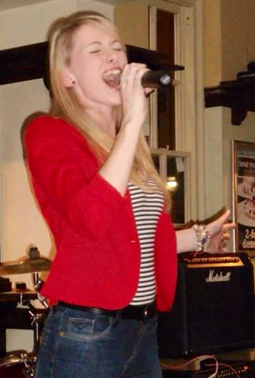 Music and Performing Arts has been a part of my life from a young age but I started singing aged 7 in my local church choir. From then on I was  hooked and always involved myself in school drama productions, shows and concerts. It was at high school that i decided I wanted to study music and performing arts at college and university.

I was brought up around a diverse variety of music, from the likes of Rod Stewart, Queen and Michael Bolton to Smokey Robinson, Elkie Brooks and Carly Simon...this combined with my preferred modern artists and genres is probably why I have such an eclectic taste in music. Which is great because I love to perform all the classics as well as the chart toppers of today!!

I joined the band in 2010 as a backing vocalist for a hobby really, however my position within the band gradually developed and I became the lead singer in 2011.
I have also performed as a backing singer with local soul singer Irie J and as a solo artist for parties and special occasions.
My experience with "All Revved Up" has been nothing but positive!! I have met some amazing people and I have performed in some great venues, some more quirky than others, but most of all I have made some really good friends.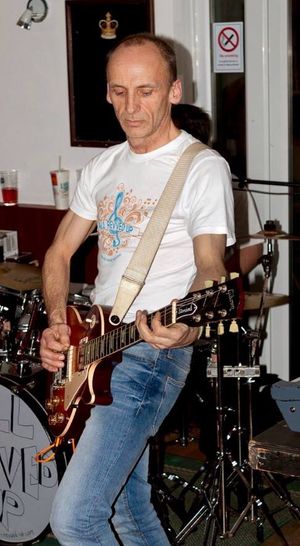 I was a late starter, first picking up a guitar at 16 and over 40 years on still learning. I've played in a number of bands, mainly rock and function groups in front of audiences ranging from a crowd of 1500 to 1!

I have never played in a cage, but I have played in a chapel of rest, a prison and with a 6 piece band in a 15' X 6' Minstrels' Gallery.

I had a 10 year sabbatical from gigging in 2000, but carried on playing at home. I got back into gigging with All Revved Up in 2010, this a by-product of some local jam nights.

Don't ever hand me a banjo or ask me to play jazz or my response will be less than polite. My true passion has always been rock music, it's what inspired me to start playing in the first instance. If you want confirmation that I am old dinosaur, then I'll let you know that I was lucky enough to see Led Zep, Randy Rhodes and Gary Moore play live. Whenever I think i's time to stop or need somewhere to escape I just get back to where it started for me.
In the last few years, partly out of necessity, we've been lucky enough to incorporate more acoustic gigs. They've presented new challenges or should I say opportunities!
At home is a one in, one out rule in respect of guitars. Apparently....
 
                                                                                    
I started playing guita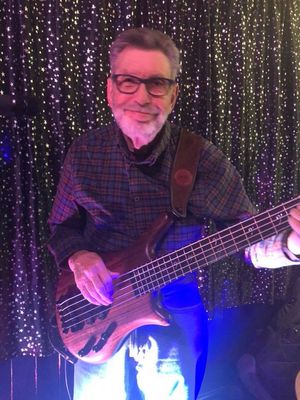 r when i was 10 years old, I'm left handed, but learnt to play right handed as it was 25% extra to buy a left handed guitar! Not having much success playing lead guitar I changed to the bass in 1977. My influences are musicians like Jaco Pastorius, Stanley Clarke, Richard Bona, Victor Bailey, Jimmy Haslip, and players with a jazz background which prompted me to play fretless bass. I'm completely self taught, but believe in having quality basses (Warwick) and amps (TCElectronics), to get the sound I need. I've always tried other instruments over the years (Drums, Hammond organ, and in 1987 got a Alto Sax) I now have a Soprano sax and a wind synth. In the 6 piece function band I played in, I would swap the bass for sax on few numbers, as it suited the songs we played at the time.
I've always tried to improve my bass playing by playing with good musicians, i use to play with couple of friends who were a big influence on my playing, that was Lincoln Anderson (Steve Harley & Cockney Rebel) and Simon T Hodges (Huey Lewis, The Brecker Brothers).
ARU, have a very good singer in Hatty, and Clive is still an excellent rock guitarist, I've known Clive for over 20+ years and I was very pleased in 2016 when he asked me to join the band. And together with the drummers we use we have a very good 4 piece band.

In the last couple of years we've used a number of dep drummers and, for the time being, continue to do so. We're lucky to have a number of people available who have helped us at gigs over that time. Special thanks to Glen, Josh, Mike, Nathan, Chris and Freddie. Each play in their own way but each of them top quality percussionists.